Case Study: "The Field of Possibilities with SketchUp
The projects on SketchUp Pro re as numerous and varied as its users. Today we want to introduce you to one of them, Maxime Foucault, an avid user of SketchUp and Lumion.
Hello Maxime ! Introduce yourself in a few words!
My name is Maxime Foucault, I'm a model maker and Lumion manager in an architecture agency in Paris (Studios Architecture) since 2010. We can say that for a long time (my childhood) I have always been passionate about 3D in the cinema with the integration of models in the sets. When I was young, I used to make a lot of models, buildings, boats… just with cardboard, string and tape. I had and I always had a real gift, patience, precision and meticulousness. I can visualize without drawing, a decor, an object even a complete project easily in 3D
and then reproduce it by hand. Since I have always had a creative soul, I wanted to work in the cinema to design models of sets. With digital technology omnipresent in films, the model was very rare and it was necessary to find and unfortunately I had to find something else. In the end, even if it is not in the cinema, I was able to make my passion my work and thus evolve for example with computer modeling for 3D printing and complete my models.
I had a student path always targeted in this universe. First of all I have a professional baccalaureate of industrial designer and toolmaker technician which allowed me to learn to draw with precision 2D technical plans to then design parts in 3D. Thereafter I acquired a diploma of interior designer which taught me to master spaces, the different aspects of architecture to better design a place, a decor…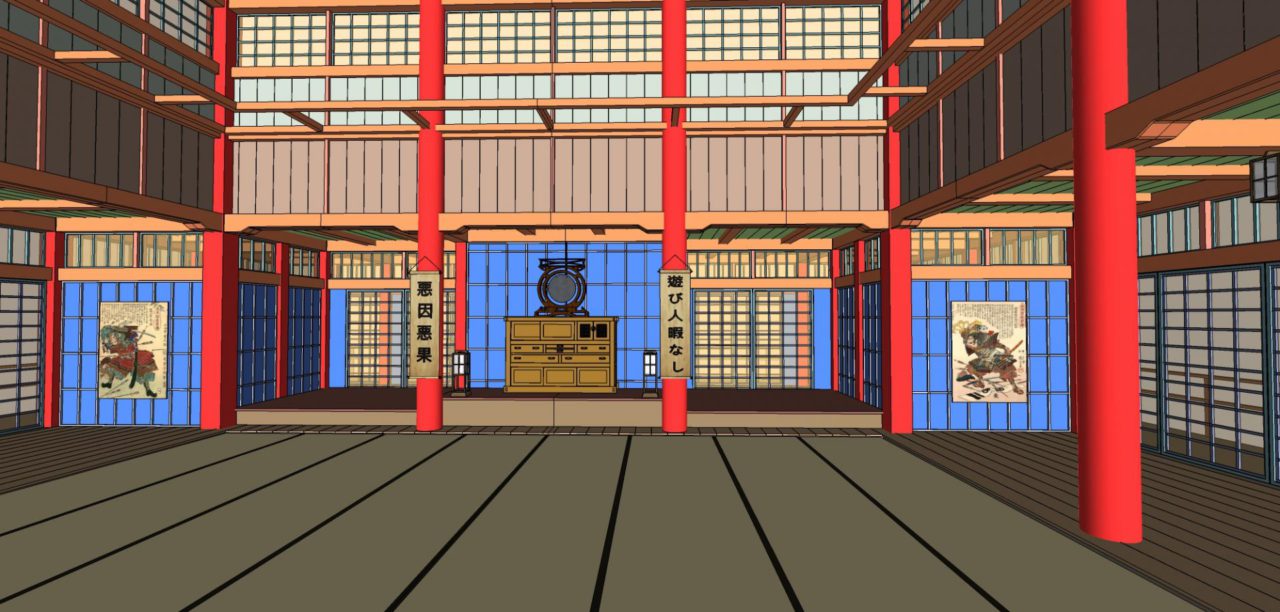 Work on a dojo in SketchUp Pro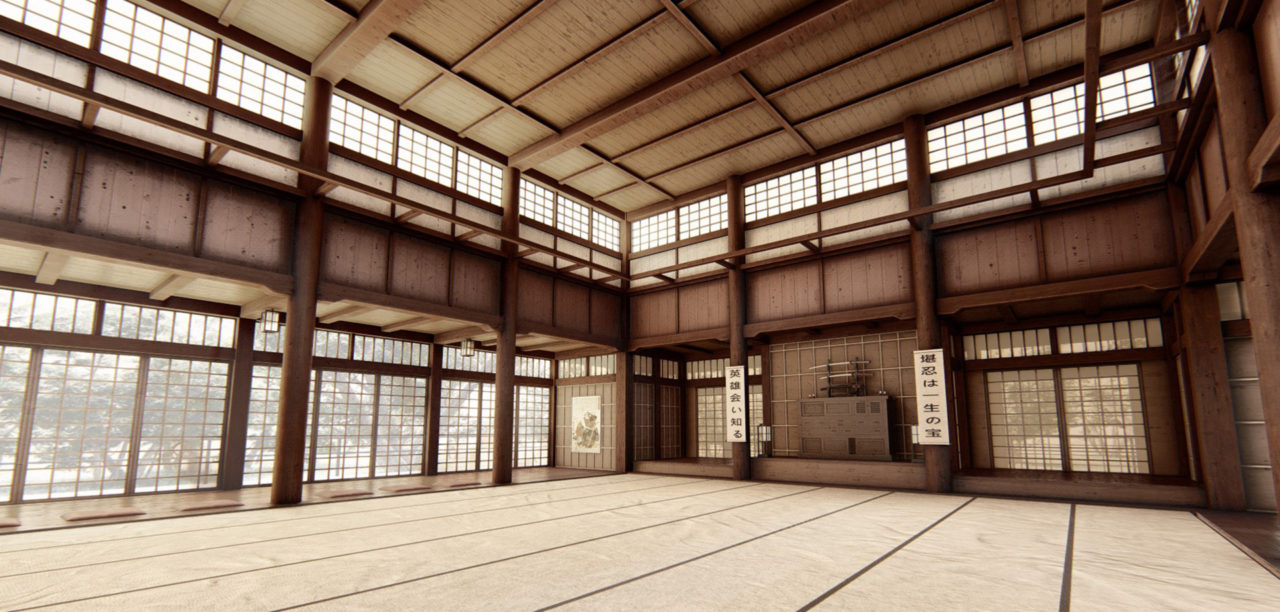 Lumion rendering of the dojo
The model being always my passion, it was difficult if not impossible for me to conceive models at home for lack of space. The creative side was starting to disappear. With my studies and my various knowledge acquired during my work, I decided to dive into something that would not take up much space, 3D modeling.
Having a great cinematographic and video game culture, I launched PM 3D Animation in 2014 to free my creative side that I couldn't necessarily do in modeling. With PM 3D Animation, I realize 3D projects in the field of architecture and the realization of short films ranging from different styles (science fiction, horror, thriller…) with the software SketchUp Pro for modeling and Lumion to create animations and make renderings. I use other software to complete my projects: Sony Vegas, Photoshop, After Effect, 3ds Max, Fuse Mixamo…
Tell us about your experience with SketchUp, and especially about your beginnings with this software. Since you were initially a Solidworks user, why did you switch to SketchUp?
Indeed I was a user of Solidworks but only during my studies of industrial design. I didn't touch the software afterwards because I didn't have it at home but only at school. It was a very precise software to design mechanical parts and see if they worked well. It also allowed me to create technical files to send the part to a machining center. A software that was very good for my studies.
Each software was set up according to my studies because each of them had its function and its specialty for the needs of my school curriculum. So there was not really a change of software, I switched to SketchUp et Autocad via my studies of interior design since there were courses on this software and our projects had to be done mainly on it at the beginning. For me Solidworks was a thing of the past because we didn't use it and there was no reason to use it again. However, during my free time at school, I had already made terrains and 3D model scenery for model making on Solidworks. It is from there and on this software that the real 3D by computer began to please me strongly while remaining in the optics to make model later. It already showed me a taste of the things that could be done with 3D software.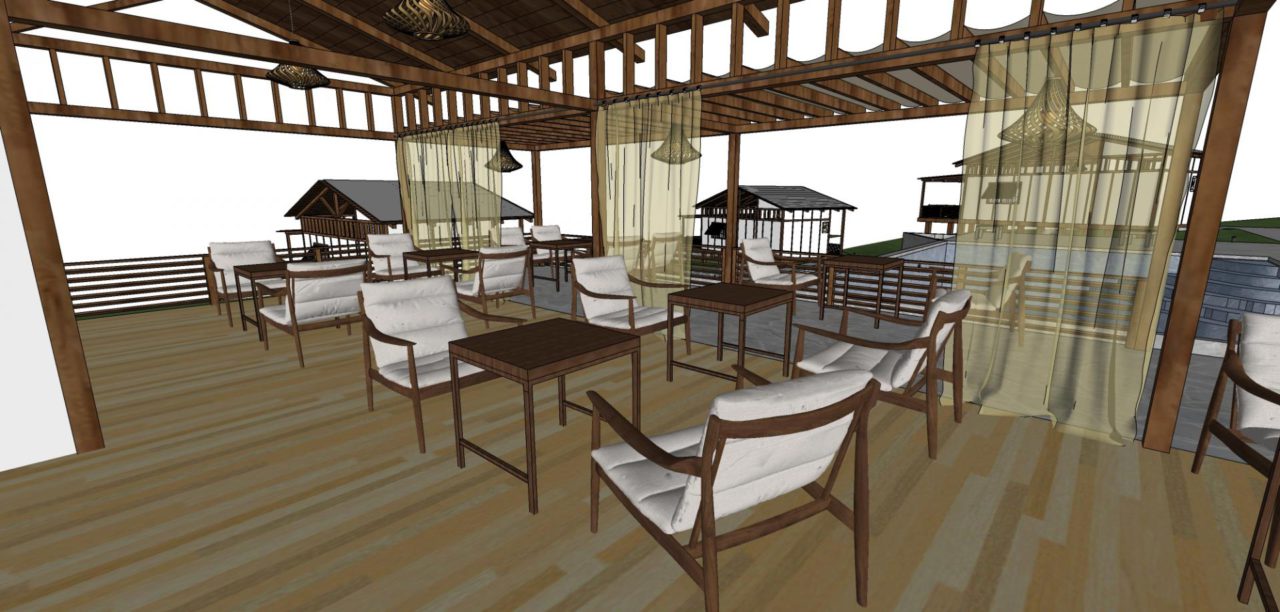 Creation of the reception room of the Pura Vida Hotel in SketchUp Pro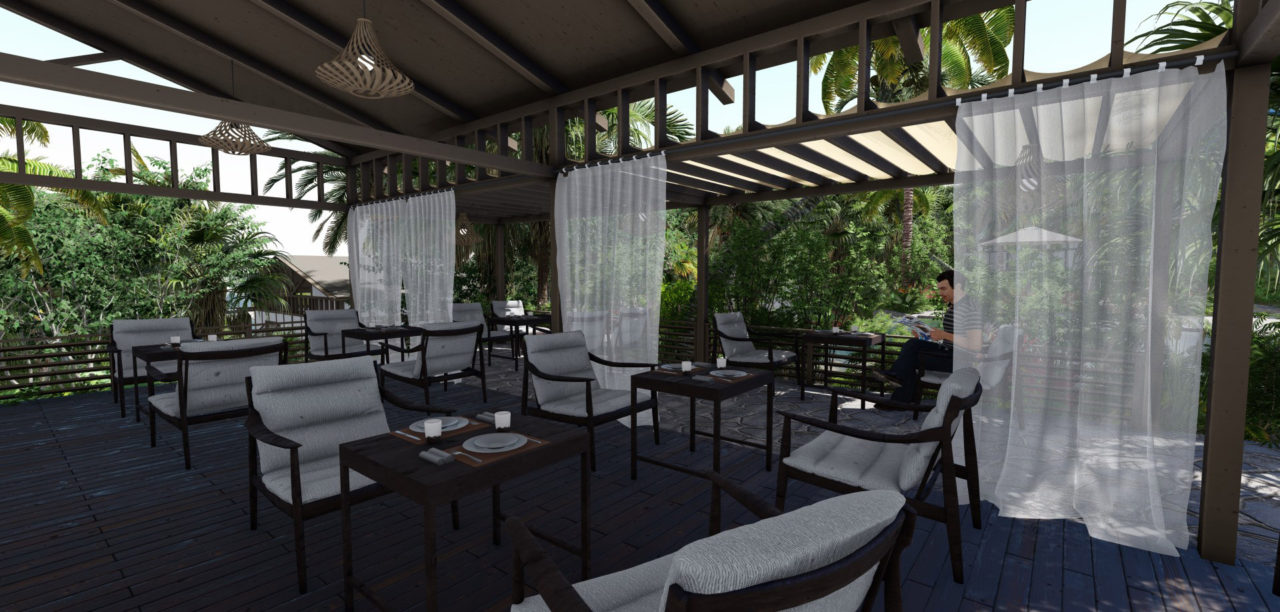 Lumion rendering of the reception room of the Pura Vida Hotel
To be honest at the beginning I didn't like SketchUp at all, apart from the fact that it is a surface-only modeler, its originality lies in the principle of interference but I still had my habits with Solidworks. These capabilities require you to break the habits of a standard 3D modeler. However, these techniques allow faster creation of drawings and shapes, based on volumes, shapes and sketches directly on the object. SketchUp works in 3 dimensions, whereas an industrial modeler like Solidworks works with two-dimensional shapes that are then transformed.
It was as my school projects progressed that I saw something great in SketchUp Pro. Great possibilities, greater freedom and simplicity in designing projects to the point that I no longer drew sketches or plans I did everything directly in Sketchup since I have better visibility directly in 3D, I knew better what was right and what was wrong. As my years of study went by, I started to master SketchUp but only the simplest basics and not necessarily in complexity. It allowed me to produce a comprehensible project but it didn't go any further. However I started to realize my first real projects on it, my beginnings before making PM 3D official. They were certainly frame by frame projects but I started to integrate scenarios, to model many sceneries… There was no rendering engine yet because my computer at that time did not allow to use greedy softwares except Kerkythea, so I used either the styles present in SketchUp or Photoshop.
When I finished my studies, I took the opportunity to do a training to complete my skills on SketchUp. I contacted Adebeo to have a complementary training as I mainly use this 3D software at work and as a hobby. In my opinion, it perfectly meets the needs of a 3D modeler, capable of competing with 3DS Max for example, as there are many plugins. When a software is mastered the possibilities are infinite.
How did you combine Lumion and SketchUp?
Always modeling small projects on SketchUp before launching PM 3D, I wanted to evolve, to make my projects more alive and real. There was 3Ds Max on the market, but since I had no training on this subject, the software being very complex, I didn't want to venture into it and waste time knowing that I was starting to master SketchUp very well. Until the day when a colleague at work showed me Lumion installed in the agency. And that was a revelation for me.
I started to discover it at work. Testing some options, even though I didn't look further than Lumion at that time, I knew that this software could meet some of my needs to complete my projects. While Revit is primarily used in my agency, I am on SketchUp which imports very well into Lumion so for me I knew I could make my projects more complete. Compared to other rendering software like Rhino or 3Ds Max, Lumion's huge advance in rendering engines is that it's a real time 3D software and very easy to use. Once the file is imported you can navigate in real time, simulate an environment with great realism, place objects, characters / cars and many other things that are in motion without necessarily making renderings. We already have a glimpse of shadows, realistic textures, light… A revolution in the field of architecture and even in other trades such as landscaping for example.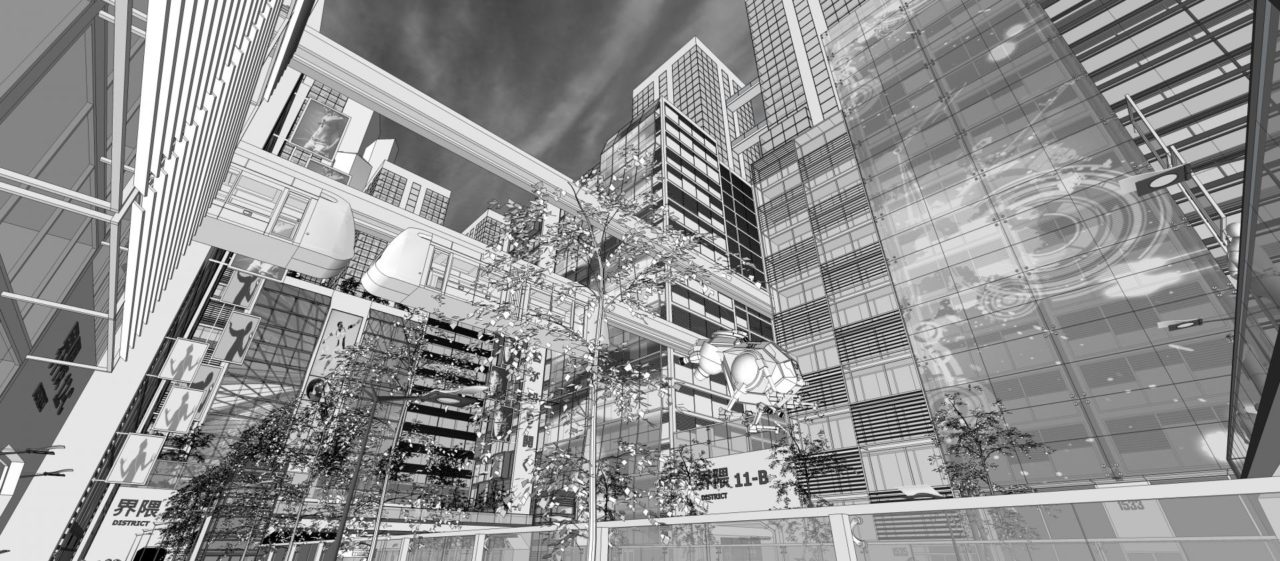 After various tests on projects of the agency I really started to take a liking to it. It was after a trip to Costa Rica where I had imagined a small hotel, that I decided to start using both SketchUp and Lumion as hobbies. My first one was Hôtel Pura Vida made on Lumion 5, it was updated to version 8 because I wanted to take advantage of the new options of version 8 and make my first project even more beautiful. It was at this precise moment that I decided to officially launch PM 3D Animation. The combination of my skills on SketchUp and Lumion which only evolve over time make my projects even more complex and impressive.
Tell us about your animation projects with SketchUp Pro & Lumion.
With PM 3D animation I have specialized in the design of 3D projects of all kinds. The projects are purely fictitious and are conceived from different themes such as: architecture, current life, science fiction, cinema or video games. They are articulated through a background scenario, sometimes integrating an architectural concept, highlighting, for some projects, particular scenes.
In the field of architecture, I conceive two very different styles. The "architectural concept" where I realize fictitious projects which are realized from a completely imaginary context. The "real" where I base myself on the existing but by integrating an atmosphere highlighted by an animation.
The short films, which take me the most time but where I can really unleash my creativity and my vision of things. They are always fictional projects made from different sources of inspiration like cinema with science fiction styles, cyber punk, horror or video games. They are articulated through a background scenario, completed by a cinematographic staging, sometimes integrating architectural concepts.
For my projects made in the form of short films and even those made in the field of architecture, you should know that my priority is above all the design and modeling of the sets, I want to show as much as possible. That's why my projects are more in the contemplative style than a simple 3D animation. I don't necessarily want it to be the most beautiful visually, I want to create an atmosphere, a very striking universe so that the viewer comes out satisfied. The association between my modeling done on SketchUp and the implementation on Lumion works very well and I always manage to transcribe my ideas. And if I can't, I always find solutions by using various tricks such as the green background. Once the modeling is done and the rendering is done on Lumion, I edit on Sony Vegas to give life to the project with the integration of sound effects and music.
Since I've been using SketchUp Pro, except for professional reasons, I have no reason to change. It's complete, easy to use, doesn't require a lot of resources and the possibilities are huge when you master it. I can always model what I want to model. With Lumion it's a huge bonus for me, a huge time saver and 100% compatible with SketchUp. It's also a very simple to use and powerful renderer. Compared to accessible renderers like Unity or Unreal where it takes time and knowledge, Lumion is very fast to master and to produce good quality renders.
Find all Maxime's projects on his website: PM 3D Animation