Today in the Adebeo blog, we will study a practical case, that of Ivan Borov, interior designer at 3DEA. Below is the translation of the interview conducted by Trimble!
Ivan Borov fell in love with 3D at the age of fourteen when he first collaborated with a friend on a project using SketchUp and Google Earth. He was fascinated by the accessibility of SketchUp technology as a whole. While studying interior design in Milan, a short film submission combining his love for graphic design, video and photo editing earned him a scholarship.
While interning at a large showroom in Milan, he realized that his colleagues were still only drawing in 2D. Wanting to help transform the way they worked and improve efficiency, Borov introduced the team to the world of 3D spatial design in SketchUp.
He returned to Bulgaria in 2012 and worked at a furniture company for four years before starting 3DEA, a dynamic commercial interior design firm that provides turnkey office interiors.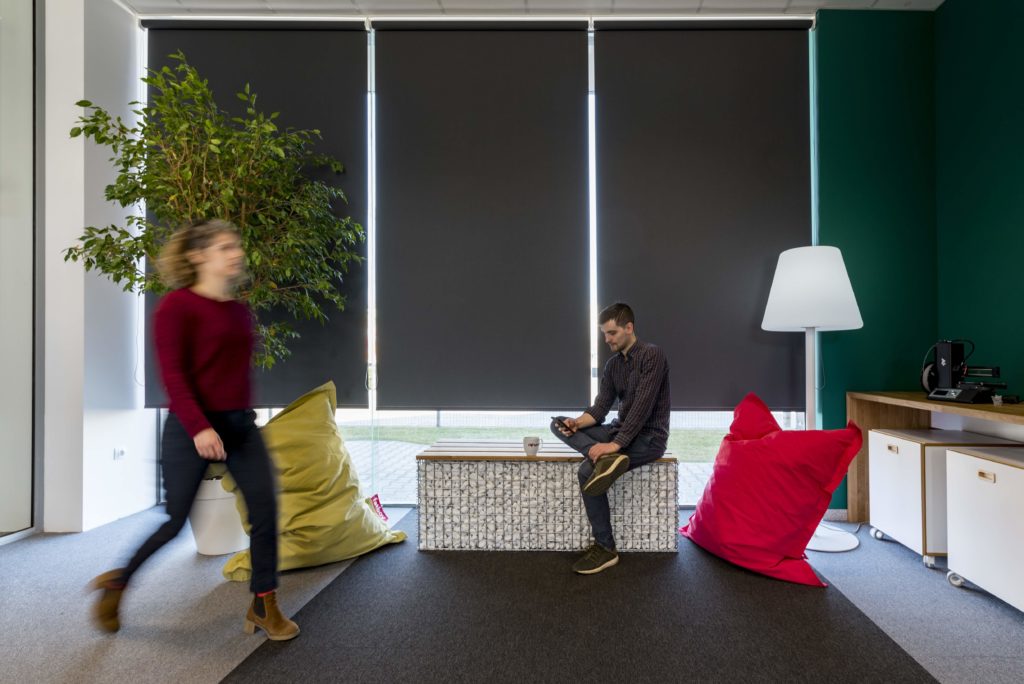 Tell us more about 3DEA and the work you do there?
I started 3DEA after several years of post-study work experience in Milan and Bulgaria. I had built a network of professional contacts while working in a furniture company, I experienced a smooth transition to serving them as an interior designer. We usually work on large and small companies, helping to express their philosophy, brand and visual identity in their interiors. We also create expo, booth design and signage: SketchUp is our Swiss army knife that allows us to do all of these tasks on a regular basis at different scales.
A key theme that runs through our projects is the combination of good design and constructability.
We run a lean team, working closely with other design professionals, particularly architectural studios, as needed on each project. We find that this multi-disciplinary team offers greater expertise to get bigger bids.
3DEA was a team of five for a long time until I became a father earlier this year! This major life event forced me to rethink my approach to work and find a better balance. This meant going from 12-15 hours in the office to being more selective about the projects we take on and working healthier, more flexible. I believe you produce better work when you have a balanced approach to life, work and design.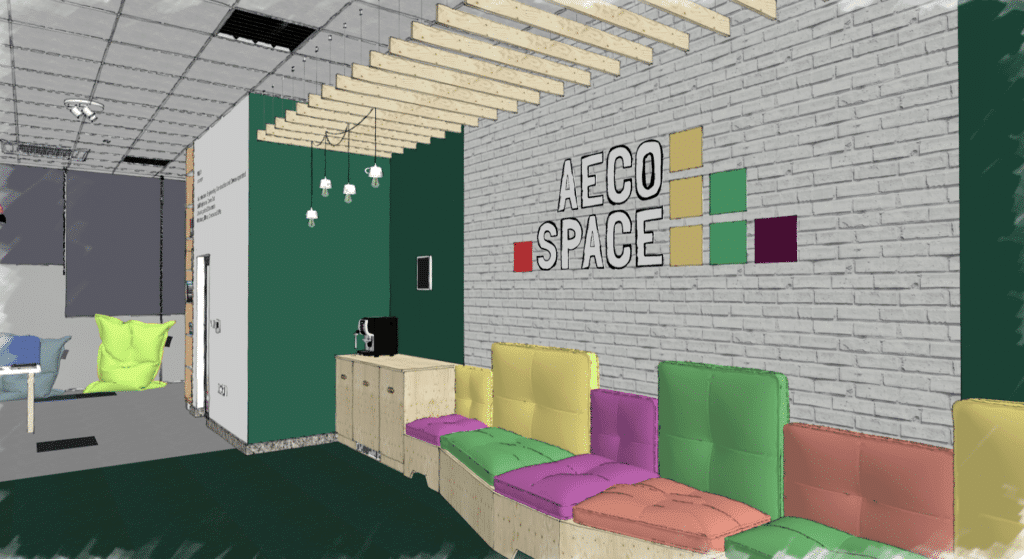 SketchUp rendering of a workplace designed by 3DEA
What sets 3DEA apart from the competition?
Our main differentiating factor is that we are constantly trying new things. We are comfortable with the idea of learning through trial and error, because it means we can forge new paths. Making mistakes is healthier in my opinion than repeating known solutions simply because "that's the way it's been done for many years." This was a problem in the showroom where I worked in Milan, some of the veteran architects were still using the same workflow they had been using since graduation. Of course, it can be daunting to try something new and fail, but it's worth it in the end because that's how innovation is born and good work is done.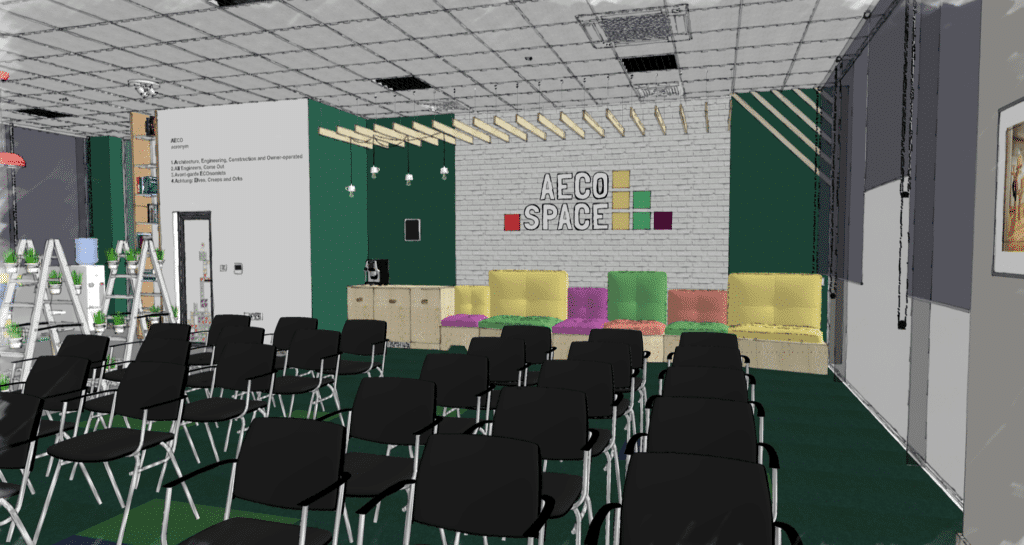 SketchUp rendering of a workplace designed by 3DEA
Where did you train?
I studied interior design at the Instituto Europeo di Design (IED) in Milan. The first year was spent laying the groundwork for traditional drafting, in-person investigations of existing spaces, and hand-drawing. We learned to use a range of 3D programs and already I found that SketchUp combined all the key features of most programs, which saved me a lot of time. To be honest, I struggled to learn some of the more complex software and was more interested in designing and delivering than being hindered by the technology. I could very simply model my design in SketchUp and then using LayOut create my 2D technical drawings. I struggled at times when my files were too large and suffered a few crashes just before deadlines, but I learned to model in a more agile manner and graduated successfully!
How important is it to perform a function in the workplace as well as it looks?
Balancing function and design is a fundamental requirement of any design task. The current trend of "Instagramable" spaces has many designers of my generation leaning towards trends and trendy design. However, time has proven that relevance, usability, and resiliency of a design are the factors that ensure it stands the test of time.
This applies to all types of design: automotive design, furniture design and architecture. I think it's extremely important to know what kind of material to use and what kind of functions to incorporate. Beauty is important, but ultimately it requires that these other principles be sustainable.
How do you communicate design decisions in your projects?
I am inspired by Bjark Ingels' approach to communication. Every project he creates has a clear story and narrative that can be explained and understood by anyone. To achieve this same kind of clarity, we strive to make our proposed solution visible to the client and end users, no matter how large or small the project. We tend to incorporate a large number of images, sketches, actual models and 3D drawings, all of which we bring together in LayOut. Each project poses different problems, so we'll take advantage of a different mix of media.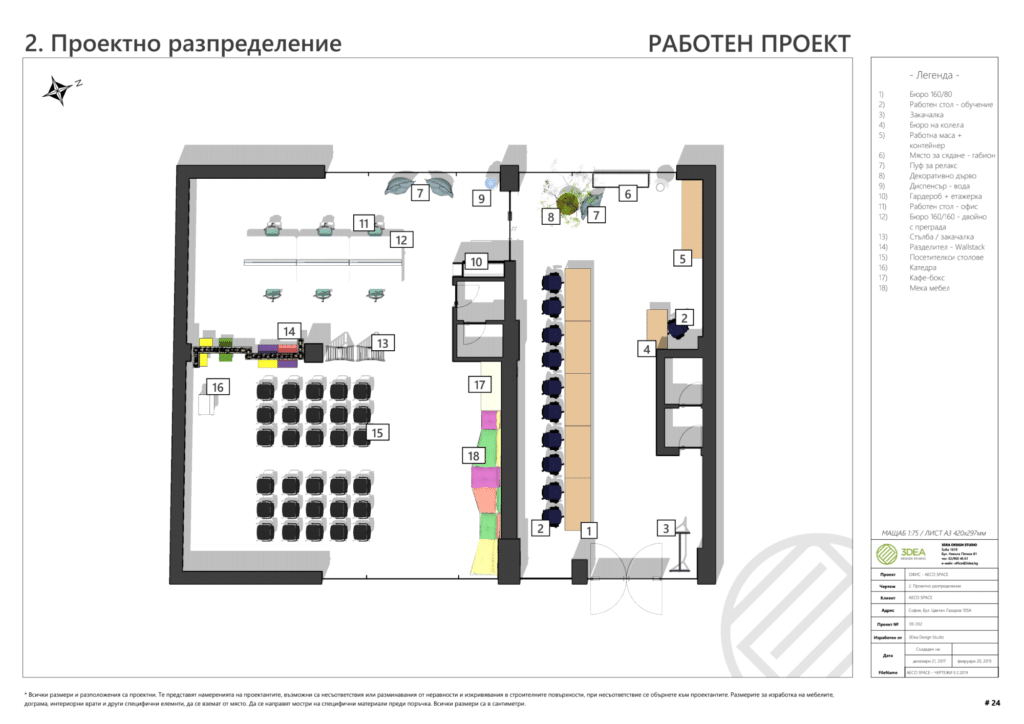 Annotated floor plan of the AECO Space project. Created using a SketchUp model and generated and annotated in LayOut.
You delivered an incredible workplace for AECO Space in Sofia, Bulgaria, can you tell us about this project?
Our mission for AECO Space was to design and provide a functional and creative space for their staff as well as presentation and training areas that could expand to accommodate a different number of software trainees. We had an airy space to work in with large windows, high ceilings and lots of light. These beautiful qualities posed a challenge. While perfect for the staff, these features proved problematic for their day-to-day work, especially internally hosted training sessions and presentations.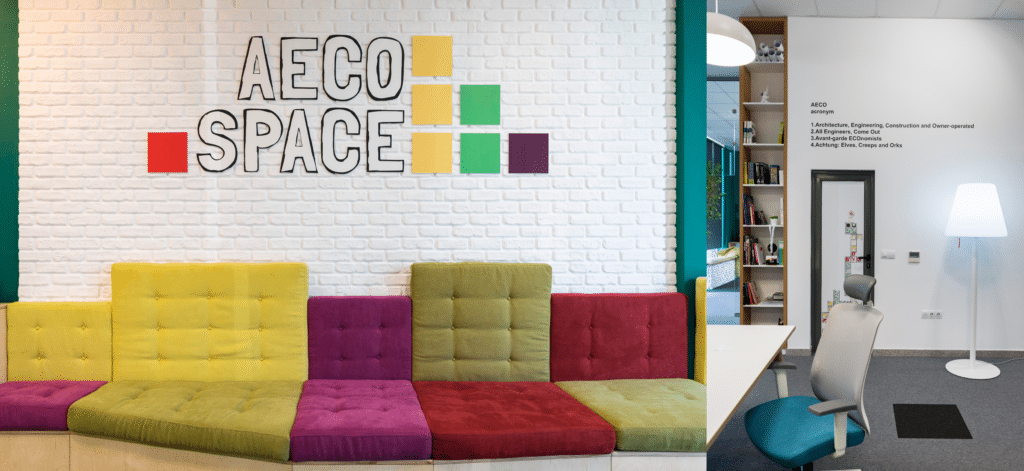 Reflecting the AECO Space brand through color and material specifications.
To create a more productive environment, we opted for blinds large enough to cover the expansive windows, thus addressing the glare issue. This meant we had to figure out how to safely hang the heavy blinds from the ceiling. The only catch was that we had suspended ceilings to counteract the high floor-to-ceiling height! Using drawings and 3D models, we tested two visible and two hidden options. After consulting with the client, we selected a hidden option which was then created and installed by a single contractor, saving us time and making the process much more efficient.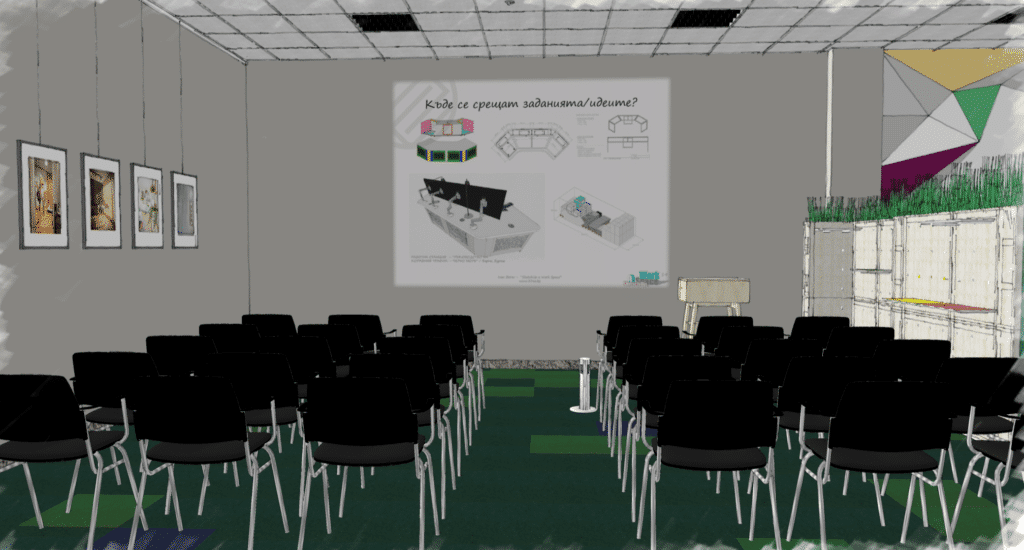 SketchUp rendering of a workplace designed by 3DEA
The original space was designed to house a bank, so we inherited a formal granite floor that the client did not want. Fifteen to twenty percent of the budget had to be set aside to deliver the chosen flooring. Having a clear budget and roadmap for the entire project was critical to getting it done on time and on budget.
The space as built is almost identical to your plans, how do you achieve this level of precision during the design phase?
It was easy to deliver what we promised because we used a constructible workflow. By modeling the project with constructability in mind, we knew we could deliver what we proposed, right down to the electrical plan and fixture placement.

Cross-sectional elevation through the AECO Space office. Drawn with SketchUp Pro and compiled in LayOut.
It also meant that we could communicate the design to the client with clarity and provide clear technical details to our contractors. The rendered, annotated and dimensioned drawings allowed our craftsmen to easily install each element of the project. We did this with the custom floor tiles that had different colors and sizes, which meant we could provide clear drawings and ensure a smooth installation. We were also able to accurately calculate costs using the readings from our drawings and provide excellent advice to our team.

Plan showing the floor grid, color and placement of AECO Space's colored mats.
Are you looking for real world products to use in your proposals?
Yes, we purchase and specify real world and custom items from a wide range of suppliers and contractors. On our project with AECO Space, we had about nineteen different contractors and subcontractors providing fixtures, accessories and electrical services for a not-so-complex project. In order to get the best quality and price, while meeting deadlines, we found that we had to work with the best.
Fortunately, we have a selection of companies that we work with and trust to deliver good quality work, on time and on budget. In addition to that, we create custom pieces and import unique materials like the Scandinavian foam from Finland that we used to create the six meter long lamp used in a project with AECO Space.
What is your current workflow in SketchUp?
During the site analysis, we hand-draw a layout survey that captures measurements that can become extremely important later in the design process.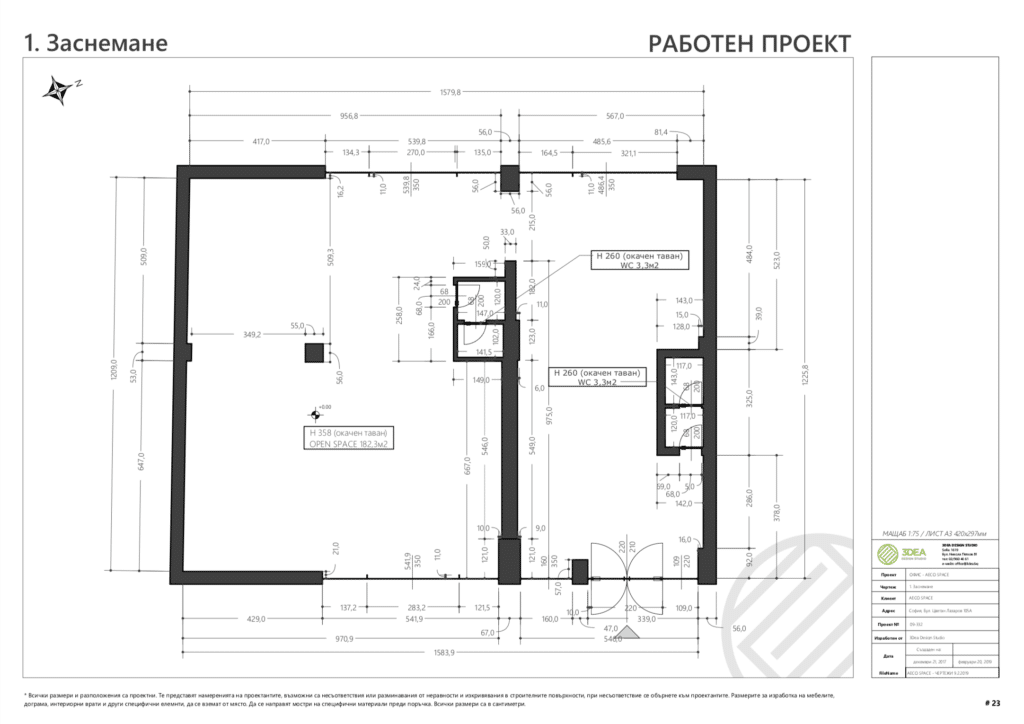 We also take a lot of photos. Back at the studio, we transcribe key details from the hand drawings and photos into 2D drawings in SketchUp. Once all the changes are made in 2D, we create our 3D conceptual models. Then we generate images for the client to review, comment on and approve, and move on to 3D drawings and engineering details, focusing on accuracy to ensure constructability. Our models are data-enriched because it helps us estimate and specify.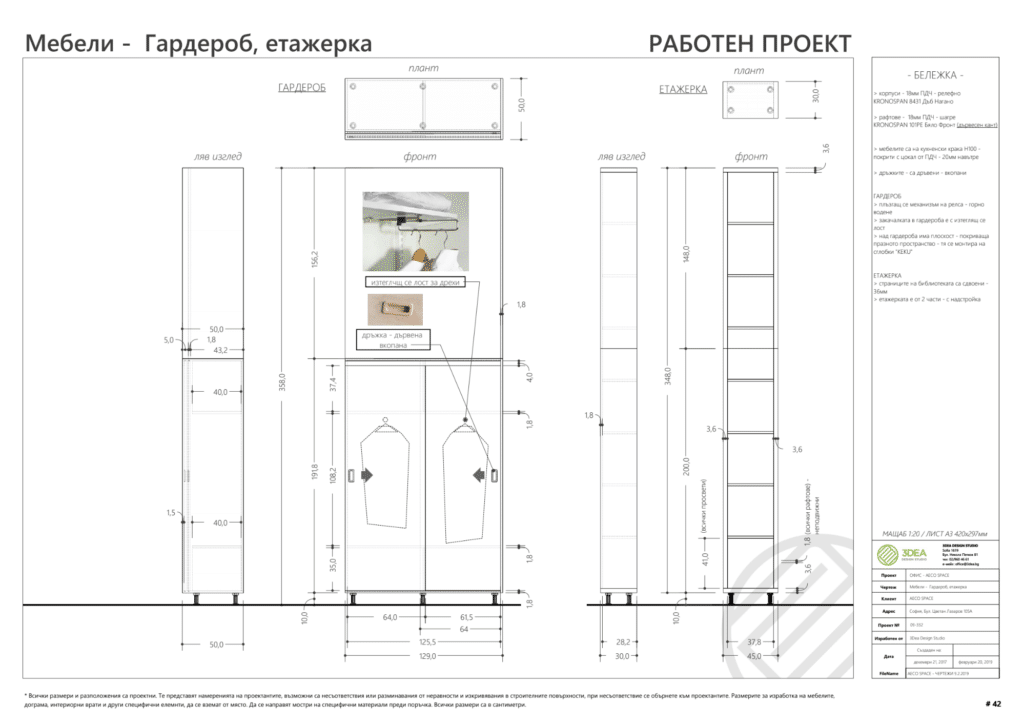 Details of custom furniture designed by 3DEA for the AECO Space project.
Even without creating photorealistic renderings, SketchUp allows us to get the client interested in the concept. Then we focus on the client's appreciation for the finished product.
When the client sets a tight budget, what tools do you use to estimate material and labor costs?
We extract area and linear measurements from the SketchUp Entity Information tab in Excel and use our formulas to provide quick estimates for projects. Our models are data enhanced so that when budget, specifications or price changes, updated results can be generated very quickly!
Make Faces saves me a lot of time. CleanUp³ helps us eliminate unnecessary elements and materials to make the models lighter and easier to work with. We find Fredo Tools to be really helpful and Round Corners is great for detailing as it helps greatly with manual corner rounding. I must also mention DropGC, Add Center Point (which is native to SketchUp), Fredo Corner, Material Tools and V-Ray for rendering.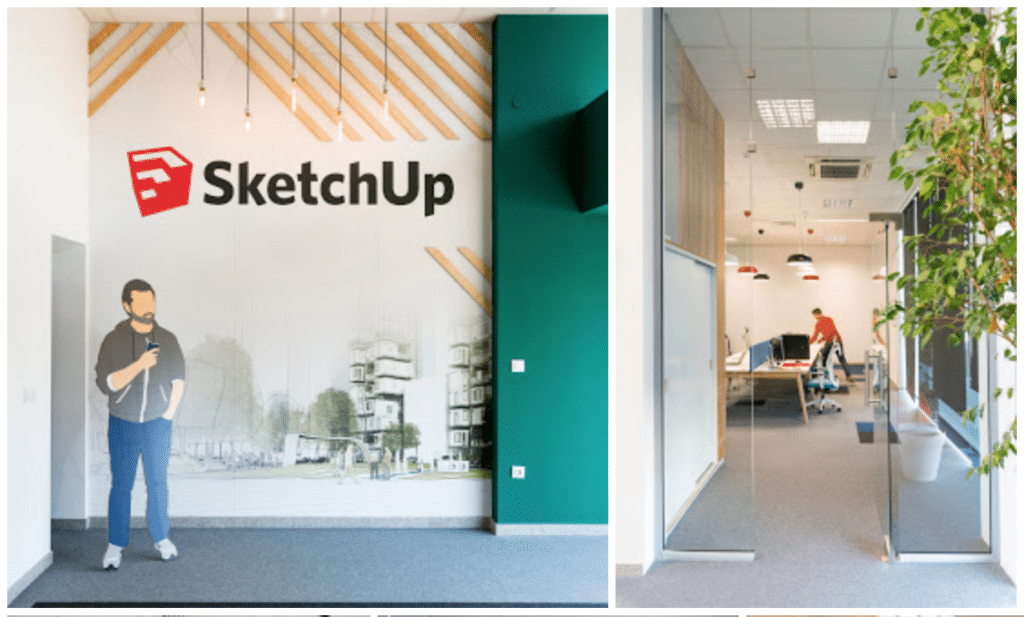 Photo of the interior of the AECO Space, designed by 3DEA
Can you share the details of some of the projects you are most proud of?
We designed a 3×1.4m all-in-one workstation with a steel structure for a 24/7 maritime surveillance tower that is located in the Black Sea off the coast of Bulgaria. All computers, equipment and cabling had to be fully integrated into the steel structure. Solving the design problem was only the beginning: we also had to think about the logistics of delivery and installation. Starting with a reference image shared by the client, we had six months to design, develop and deliver the project.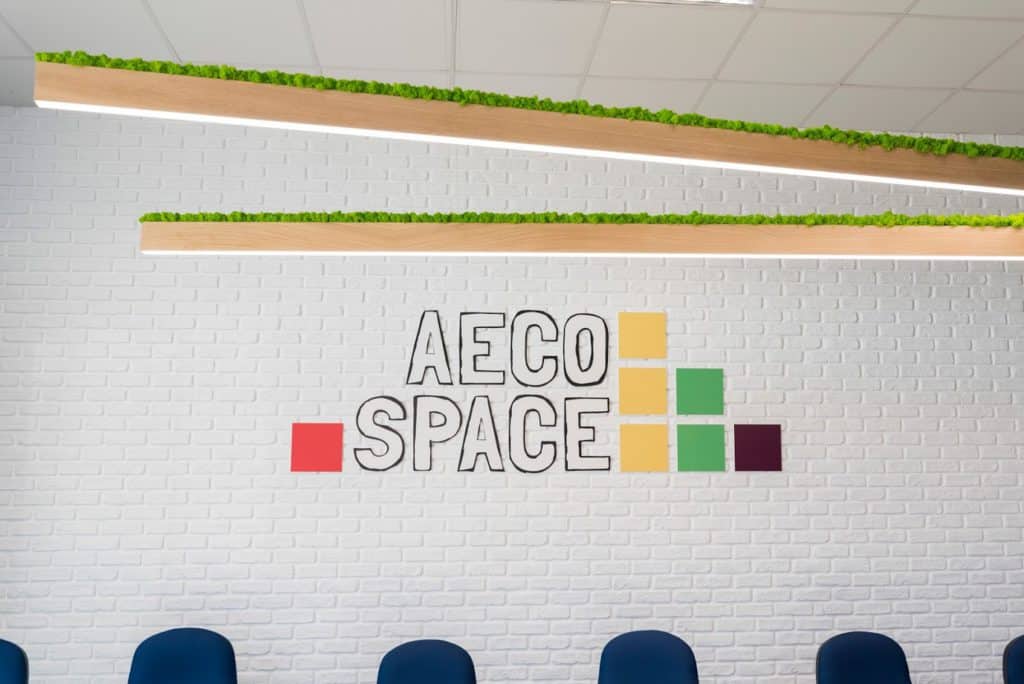 Photo of the interior of the AECO Space. Designed by 3DEA.
SketchUp was extremely important in determining if all the separate parts made in Sofia would fit on the transport truck before being assembled and then transported to Varna and Burgas. The office house is similar to the Leaning Tower of Pisa and some of the parts were not suitable for the elevator. This meant that we had to simulate exactly how the office would be positioned in the stairwell to finally arrive at its final location at the top of the tower. This project was really complex but equally satisfying to deliver and SketchUp was a great help from start to finish.