After having followed our SketchUp training, Eric Jovis, cabinetmaker and furniture restorer, gives us his testimony:

– Could you introduce yourself in a few words (you, your activity, your background, your specialty)?
=> Eric JOVIS, a cabinetmaker and furniture restorer by training, created the company in 1986 with a billiards manufacturing activity for which he had trained.
The company has evolved into a craft structure of a dozen people and has completed its field of action by offering custom kitchens and restaurant fittings (bars, sideboards, tables …). It manufactures all the products it installs mainly in the west, Normandy and Paris region. Some of these pieces are sent around the world. The company is now called "Ateliers JOVIS – Furniture and decorative arrangements to measure".
– How did you discover SketchUp?
=> I discovered SketchUp when it was introduced by Google around 2006.
– How do you use SketchUp today and what do you use it for?
=> Our creations are almost all custom-made. SketchUp is mainly used as a presentation tool during the sale.
I'm waiting to have acquired and experienced the Pro version before considering making the manufacturing plans that I communicate to my colleagues in the workshop.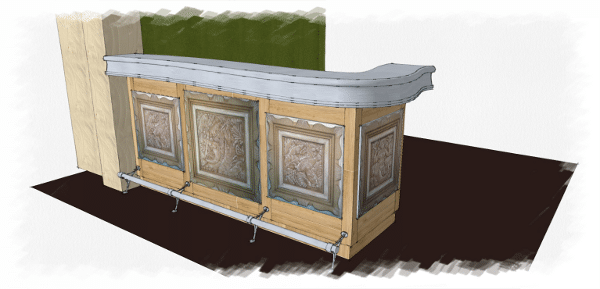 – What is the strength of SketchUp in your business?
=> The ease of use combined with very good functionality allows for very good results without the learning time and budget of the usual CAD products!
– What has adebeo done for you?
=> The first essential learnings to use SketchUp professionally.