The Sketchup extension for carpentry
Download the free trial version of VMS_UP below!
GET THE FREE TRIAL VERSION OF VMS_UP!
The VMS_Up extension pack is only available through your Adebeo expert. Developed to meet the specific needs of woodworking professionals, the extension allows you to create technical drawings modeled as expected.
---
The ideal package for furniture and woodwork modeling
The VMS-Up package is your new virtual woodworking shop. Developed to be faithful to your daily processe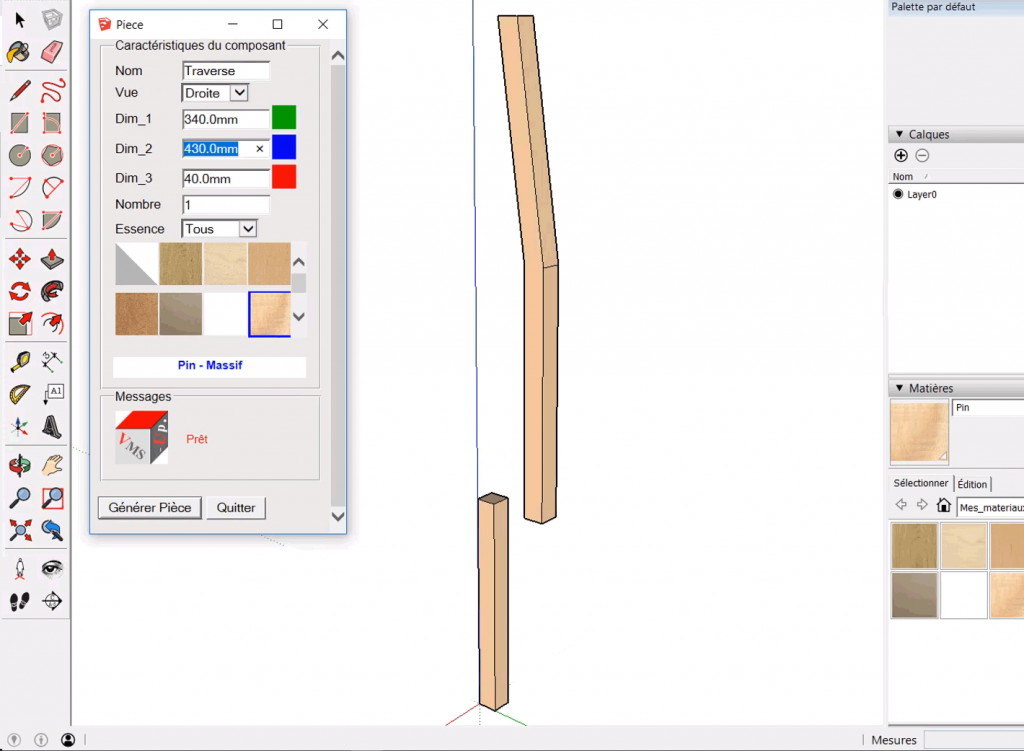 such as mortise and tenon machining, domino or slat assembly, groove and molding machining, and hardware installation, the tool allows for faster, more accurate, and therefore higher quality modeling and design. All the operations that the carpenter performs on a daily basis will be greatly facilitated by tools that "speak" the language of carpentry. With the model designed in three dimensions, the nomenclature of each piece of wood and the execution drawings on the sides, the carpenter can leave for the workshop with the assurance that the manufacturing and assembly will proceed serenely.
The VMS-Up package, available only from Adebeo, allows the cabinetmaker and the carpenter to produce realistic and professional images, but also to generate side drawings. Thanks to the import of materials, you can draw your wood piece, insert your dimensions and then machine it efficiently. From the design of a frame to the design of drawers, everything is possible with this package dedicated to woodworking. Get out the chisel, the milling cutter, the saw and the vice, and let's go for the cutting!
---
2 levels of access to the Sketchup Pro wood extension
VMS_Up is a pack of essential functionalities for the carpentry activity on a daily basis. Also, in order to accompany you as well as possible, the pack is available in free version on some features. Discover them!
Assembly
Creasing
Colorize Erase colors
Flow sheet
VMS_Up menu
Layout
Hardware
Symmetry and Rotation
Tenon and Mortise
Machining Slot and Moulding
Cutting sheet edition
Resize a part
Delete a hardware
Finger jointing
Tailpiece assembly
Screw assembly
Gendarme hat
View profiles
Add a material
Cut
Stretch
Make a notch
Modify an assembly
Where is it
Packing
Drilling
Tenon-Mortaise burst
Make identical to
Tenon and Mortise with shoulder reinforcement
Machining a contour

System 32 Assembly

Kreg screw assembly

Bouffetout


Boxes

Doweling


Machining to size