SketchUp is a very intuitive design software used for 3D modeling. Practical, intuitive and ergonomic, it allows you to create 3D drawings and visualize scenes with remarkable realism thanks to the addition of a rendering engine plugin for example. Used by many designers, architects, decorators, craftsmen, graphic designers and other layout artists, the software has become essential for anyone wishing to model and bring technical drawings to life. Have you purchased SketchUp Pro and want to add a plugin? To install SketchUp with extensions, we tell you everything in our dedicated tutorial on Youtube!
Why install extensions to SketchUp?
SketchUp is today the best assisted drawing software. Thanks to its 3d warehouse library and its import of components, drawing in 3d is almost child's play. But 3d Warehouse is just an example of one of the many plugins you need to install to get the most out of the CAD software. Do you want to export your scene afterwards for a professional and realistic rendering? Again, it is a rendering engine that you will need to integrate with SketchUp to create a quality export. Note that only the pro version of SketchUp allows the integration of plugins (the free version does not).
How to install a SketchUp extension?
You have purchased a plugin for SketchUp? You don't know how to proceed with this ".rbz" file? Learn how to install your SketchUp extensions in just 4 clicks!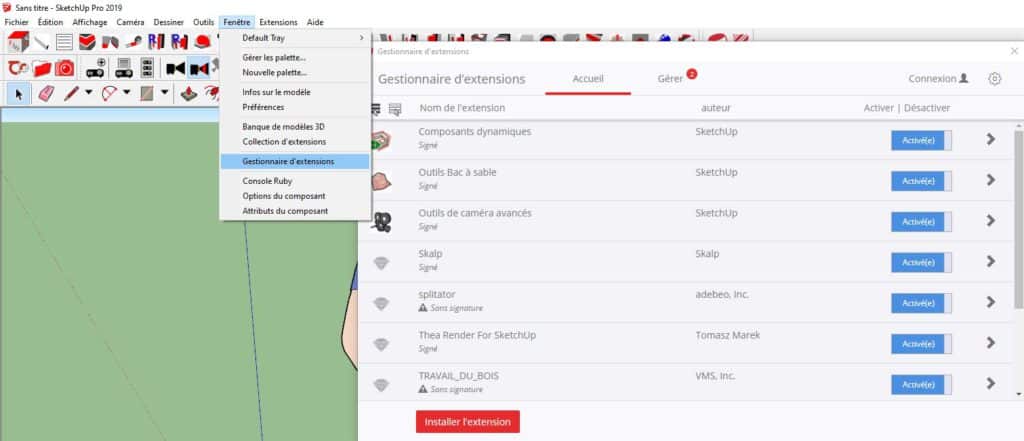 To install the plug-in, reset or reinstall a SketchUp extension:
Go to Window > Extension Manager, then click on the Install Extension button: a window on your desktop will open. Find your ".rbz" file, select it.
In the extension manager window, if everything went well, you will find the plugin in the list of different extensions already present and installed.
Go to the Extensions menu and your plugin is installed. You will have to activate it manually and sometimes restart the software to benefit from it.
If you still feel hesitant, you should know that application and extension developers often make an installation program in the form of a tutorial to help you install a file in the right place and unzip it. Do you have any doubts about whether you have the latest version? Usually, the SketchUp plugin editor automatically replaces the old version with the new one on the ftp server for download. However, be aware that your program will regularly offer to integrate updates. We advise you to do it regularly to integrate the latest options.
Requirements for the download
SketchUp engineering software works in both Mac and Windows PC environments. Also, its extensions are compatible with both operating systems. To download your SketchUp extension, you will need an internet connection. So, open your web browser (Chrome, Firefox, Internet Explorer), then one of the search engines of your choice (Google or Bing for example). Install and activate your plugin, the download will work regardless of the chosen web browser. The development language of the plugin is completely transparent to the user at download and activation. So you can manage the extensions afterwards as you wish!
If you feel the need, you can regularly clean up your SketchUp extensions and keep only the ones you use to free up disk space. Just click on the extension you want to deactivate or uninstall.