In-company training is a course where the trainer personally teaches you a program specific to your needs.
The advantages of this type of training are the flexibility of the dates, the program, the location and also the daily rate (independent of the number of trainees).
Programs
In-company training allows you to completely customize the content of your training to your needs.
Training programs can be customized or official SketchUp :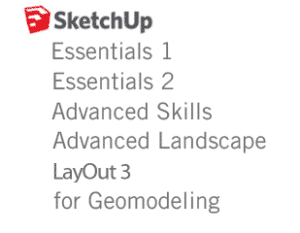 Public
Sketchup in-company training courses are designed for companies that want to train multiple employees. 96% of our trainees feel able to start a project after the training.
Rates
The rates of our in-company trainings are fixed rates of 896€ HT per day to which possible expenses are added.
Support
Adebeo is a training organization. Our services are therefore subject to reimbursement by an OPCA, the FIFPL or the Pôle Emploi. You will find all the information you need about this on our page about reimbursement.
Examples of coverage:
Employees and salaried managers: 100% coverage
Non-salaried managers: 200€ per day of training
Organization
The in-company training sessions take place in your premises, in one of our agencies in Paris or Lyon or in a rented room. The trainer intervenes with his machine (MAC or PC) and a video-projector.

Registration
You will receive the following in electronic format:
The original course materials on which each click of the trainer is illustrated and commented
A selection of Sketchup plugins
An A4 reference sheet
After the training you will receive an official SketchUp training certificate.
You have technical support by phone, email or Skype (screen sharing function) for 1 year.
Access to other courses

This way, you become part of the Adebeo family of customers and stay in touch with the specialists who keep you up to date!