THEA RENDER, THE CUSTOMIZATION ADVANTAGE OF 3D SKETCHUP SOFTWARE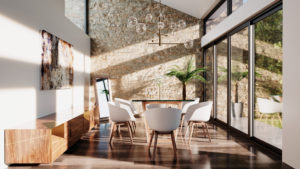 Sketchup, the best 3D modeling and design software, allows you to create and visualize a wide range of three-dimensional environments in its pro version. Thea Render is the essential and intuitive rendering tool to convert a 3D drawing into a living scene. Integrate cameras, lights and materials for the most realistic rendering. Easy to use, the extension is suitable for beginners as well as for CAD software designers and developers. Open the file, click and activate the views, drag, check the export format, download, save, the converter transforms the vector images for you!
---
THEA RENDER AND ITS VISUALIZATION AND RENDERING FEATURES

PRINCIPALES CARACTÉRISTIQUES
Physical or biased rendering
Complete material editor
Advanced light simulation
High performance
Dynamic camera post processing
Light environment
Animation engine
Denoiser
Interactive rendering
Proxy
Online material directory
Random color
---
The new features of thearender V3
Denoiser:
Automatic image noise reduction that allows for faster rendering while improving the final visual.
Interactive rendering:
Thea for SketchUp allows you to perform interactive rendering either in the Thea window or directly in the SketchUp view.
In addition, with the use of interactive region rendering, you can select and render a region from the SketchUp view, providing ultra-fast feedback for complex scenes.
With the addition of NVIDIA and Intel's artificial intelligence denoisers, it is also possible to use denoising in interactive mode.
Proxy :
Creation of "Proxy", simplified objects in visual for a fluid and fast work in Sketchup which will automatically call a "high definition" version during the rendering for a perfect finish.
Online Material Directory:
Thea Online Directory is available through the Thea Content Browser, providing access to thousands of community-submitted Thea materials.
Random Color :
Simply create subtle variations on your materials for a less repetitive look.
---
THE FRENCH 3D RENDERING CONVERTER
Beyond its technical attributes, Thea Render for Sketchup Pro is the only rendering software to offer a French interface. The ergonomics of your workspace is optimized; you will have a better understanding of the customization options offered. From now on, it's up to you to import a file, edit, check, sculpt, save your preferences manually or by default, compress your layers, export, save as you wish! To delete a layer, uncheck it first, and let your creativity run wild like a graphic designer to imagine alternative versions. Then save your preferences for future vectorized creations.
---
LEARN ABOUT THEA RENDER THROUGH TRAINING AND TUTORIALS
Adebeo, Sketchup expert for more than 10 years, offers a training on the Thea Render rendering engine for Sketchup Pro version. Sketchup Thea Render training is suitable for beginners as well as for advanced designers and developers. Learn how to optimize tags (layers) and pixels for ease of use. Whether you're a designer, architect, modeler, or kitchen designer, you'll want to improve and deepen your knowledge of the tool. Our Sketchup Thea render e-learning course allows you to progress at your own pace and to train for a year on the leading 3D drawing tool in CAD. You will benefit from the best pedagogical content and computer graphics on our tutorials thanks to your trainer Pierre-Jean, Thea-Render expert.
---
INSTALL THEA RENDER PLUGIN